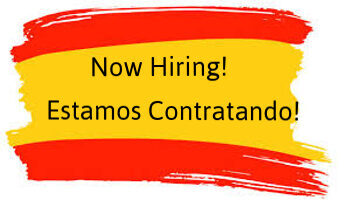 You're probably aware that finding good quality employees in Spain can be a challenge for many companies. Where should I post the job vacancy?  How do I find the time to sift through so many CV's?  How do I identify the best candidate for the role?  And when I do find the right person, how do I keep them for the longer term?
Where to find staff in Spain?
Of course, this varies depending on the industry and candidate considered.
If you're looking for someone to work in your bar, restaurant or hotel you might want to consider avenues such as Facebook posts or advertising on local job boards.  On the other hand, if you're looking for an accountant with 20 years of experience, you will likely begin your search on LinkedIn or hire a professional headhunter to find your ideal candidates.
Recruitment agencies, such as at WorkInSpain, can help companies find staff in most industries. They act as an intermediary between the employers and potential employees and can help with:
Identifying the best talent
Vetting candidates
Providing the top candidates to the employer
In the long run this can save you both money and time.  A good recruitment agency will provide you with a selection of relevant, available candidates who meet the criteria that you set.
Recruitment agencies can also help you find staff with niche skills that may be difficult to find yourself.
One common method is to use the reach of Social Media.  Platforms such as Facebook and LinkedIn provide great opportunities to generate applications to your vacancy.  The downside is that many of the applicants may not be qualified so it's going to take time to review all those CV's and motivational letters.  And you also might not reach as many people as you think.
Another option is to use local Job Boards to advertise your vacancy and again these can generate a large pool of potential candidates.  But you may face the same time-consuming problem of narrowing down all those applications to a short-list of relevant candidates.
Other possible alternatives include:
Advertising in local newspapers
Attending job fairs
Employee referral programmes.
What else should you consider when searching for staff?
There's a variety of ways that can help you attract and keep the best staff in a competitive job market.
Provide an accurate and concise job description when advertising.  No matter if you are posting on Facebook or using a recruitment agency, it's important that the potential candidate understands their role and responsibilities.
Offer a competitive salary in relation to the national pay scale.  This gives you the best chance of finding high quality and long-lasting employees.
Provide well thought through on-boarding and training plans and get your new employees involved in the company culture right away.
If possible allow flexible work schedules.
And lastly, don't forget your existing staff – they may be looking for new opportunities themselves!
By following the above points you are giving yourself the best chance of finding a high-performing and loyal employees.
How WorkInSpain can help you
We fully understand the difficulties involved in finding, recruiting and keeping top quality staff and we're here to help!
Firstly, we have a database of job-seekers all based in Spain and with paperwork to be legally employed.  Our job-seekers have registered directly with us and have provided us with all relevant information, such as their CV, contact information and location so we can filter the most appropriate candidates to you.
We offer different levels of service depending on what suits you best.  You might find our CV Subscription Service is what you need where you can access our database of job-seekers and make your own arrangements directly with the candidates.  Or, if you need more assistance, our comprehensive Recruitment Service might be better, where we really help guide you right through the full recruitment process.
We can also help with employment contracts, background & reference checks or even help coach you to perform high quality interviews.
Don't hesitate to complete our Job Vacancy Form or Contact Us and we'll be delighted to help.